1st Annual Brittanee Rhoades Memorial Poker Run
DATE: June 10, 2017
The Brain Injury Hope Foundation is the beneficiary of the proceeds.
STARTS: Caddy Shack, Colorado Springs, CO
ENDS: Red Dog Saloon, La Junta, CO
Going through Pueblo with stops at Chuck's Place in Avondale, VFW in Boone and VFW in Ordway.
SIGN UP 9:00 AM Caddy Shack, 4856 Galley Road, Colorado Springs
Poker hands $15.00              Raffle Prizes
Second rider $5.00                50/50 Drawings
Biscuits and gravy breakfast $3.00 plate, before we leave on the bikes at 10:30 AM, rain or shine.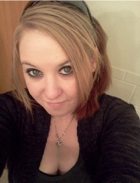 Ramona Angel is kindly donating the proceeds of the June 10th event to the
Brain Injury Hope Foundation in memory of her daughter, Brittanee Rhodes,
who passed away in 2015 from a brain injury caused by an auto accident.