Susan Wehrspann helps TBI survivors find work through her company Wehrspann & Associates.
Free Resources Available for Job Seekers By Eliza Marie Somers If applying for jobs and getting back to work has you overwhelmed, especially after a brain injury, don't fret, there are plenty of resources available to you — and most are free! "With COVID-19, there is money for retraining in jobs that have livable wages … for certificates and degrees," said Tammy Olivas, who works at Larimer County Economic and Workforce Development. "You will work with a team to see if you are eligible for retraining." Some examples of available retraining include CDL (commercial) drivers, certified nurse's assistant, registered nurses, and Project Management positions, Olivas said at the Brain Injury Hope Foundation's April 2021 Survivor Series – Employment: Making It Work For You.
Olivas also said Workforce Centers can help people with career exploration by sharing tools for reassessment of skills along with how to research positions.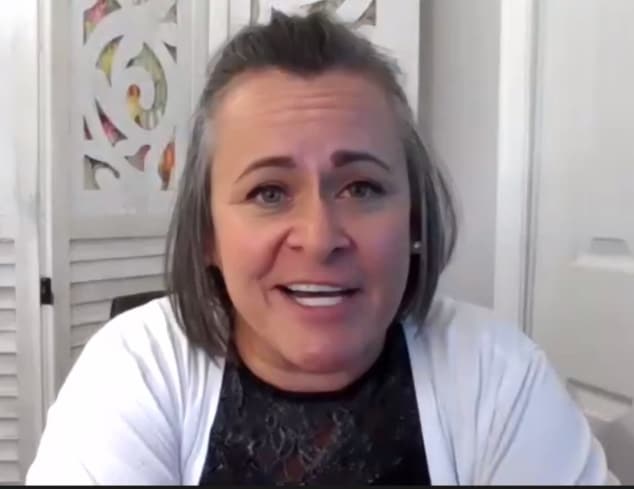 Tammy Olivas is a career specialist with Larimer County Economic and Workforce Development, and can help job-seekers with free resources.
"I look forward to working with people, helping them with their resumes and interview skills. We can help you find opportunities," Olivas continued. Along with the Workforce Centers, there is also the Division of Vocational Rehabilitation that can help people with disabilities re-enter the workforce. "I work with universities and community colleges, cognitive and vestibular therapists," said Meagan Gallegos of the Colorado Division of Vocational Rehabilitation. The DVR mission statement is to assist persons with disabilities to succeed at work and to live independently. The DVR also can assist people with technology. To get started and to find a local DVR go to https://dvr.colorado.gov/ "There are options for training for upscaling and rescaling," Gallegos said. "There is cognitive retraining, vision therapy, assisted technology … It's very individualized depending on your skills and interest." Along with career planning, vocational rehab centers help clients with benefits. "We promote benefits counseling," Gallegos said. "We make a clear outline to maintain your benefits and do a full benefit analysis."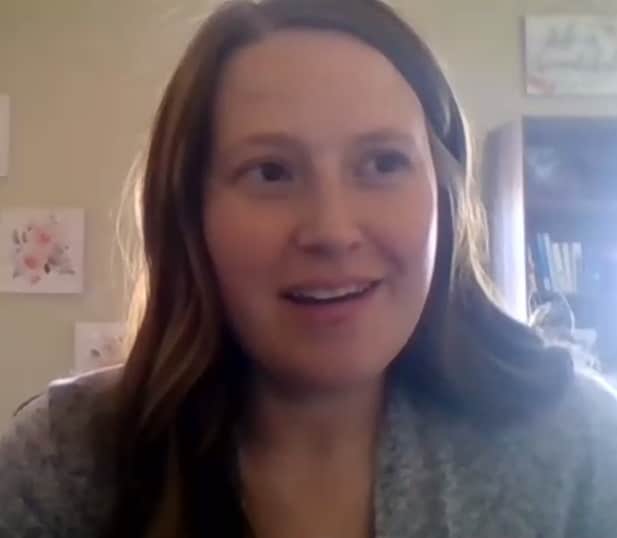 Meagan Gallegos says the Division of Vocational Rehabilitation can help people with a benefits analysis.
DVR centers also offer self-employment training and resources , which is what Susan Wehrspann did after years in the corporate world. Her company, Wehrspann & Associates offers coaching, workshops and seminars. "I can help people transition after a head injury," said Wehrspann, who assists mTBI survivors assess their skills and abilities. "You have to figure out who you are now and what skills you have," Wehrspann explained. "You have to reframe your life. The gift of a TBI is you become your authentic self. You figure out who you are, and if a job doesn't work out, you step away." And because of COVID-19, Wehrspann had to do some reassessing herself, so she knows the "pain" of readjusting. "I went from being a speaker to having to learn Zoom," she said. "I had to develop those skills to teach others. So if you don't have the skills, you have to start creating those skills." The Workforce Centers are a great place to start learning new technology as they hold monthly workshops, including how to use LinkedIn. Another resource for job seekers is the local library system, which has access to Lynda.com and tutorials on Excel and other Microsoft Office programs. "You HAVE to develop those tech skills," Gallegos said. "They are not going away." And don't kid yourself, looking for a job is hard work. "If you don't have a job, your job is to find a job," Wehrspann said. "Set aside a part of the day for job search, and when that time is up — you are done for the day." Pinpoint focus is crucial while looking for work, Olivas added. "Be focused. We have a saying: Spraying it and praying it," she explained that sending out resumes to everyone for everything (spraying it) and then praying you will get a job from those efforts is ineffective. "Know what kind of work you want to do. What industry you want to work in. Research companies. It takes time. Some employers want a cover letter, resume and application others don't, but be prepared to do all three. And, do it well. Be patient, and be kind to yourself.  It's not easy, looking for work." Gallegos went a bit further about being prepared. "You know you will be asked your strengths and weaknesses. Review it every day," Gallegos said. "Do mock interviews. There is so much information and resources available. Reach out to these resources. It does take time to find out what works best for you, and continue to find what nurtures you." One big question that resonated with the participants centered around disclosing a mTBI to a potential employer. "Do not disclose until you have the job," said Gayann Brandenburg, employment specialist and BIHF President. "Wait until after the interview to disclose because you don't know if you will need accommodations. Say, you discover that the lights are giving you migraines. … You might not know until you have a job if you need accommodations." Brandenburg noted most accommodations are less than $100 and help can be found at the Job Accommodations Network.  Disclosure is a personal decision and one that BIHP vice president Joanne Cohen had to make several times. "I've had a really good experience and not so positive experiences in corporate America," Cohen explained. "I mentioned to my boss about having brain fog. Really, the job was too big for me at the time, and the supervisor said I was not the person who they hired. Two weeks later I was fired. "I took another job and told my supervisor after I was hired, and my boss was great. He was such an advocate for me," she said. "You have to trust your gut.  And take a job for the brain that you have NOW, based on where you brain is now."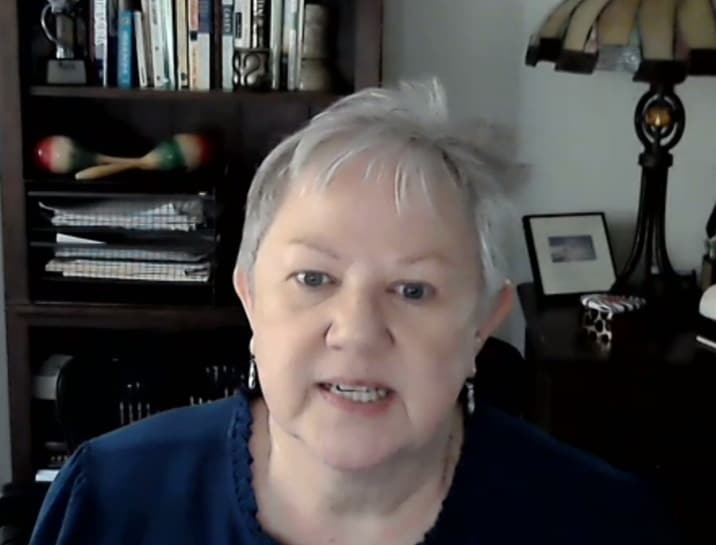 Gayann Brandenburg urges people to start looking for a job NOW because it can take several months to find the position you want.
If you are in need of work don't wait until the last minute to apply Brandenburg added. "If you think you will get a job in three or four months from now, get started now," she said. "Get into a schedule. Get into a routine. Finding a job is a job." Brandenburg also stressed the importance of employment and mental well-being. "Working changes people's lives," she said. "It gives them hope. It opens doors for them, even if it is part-time work. I work with a lot of people who are homeless and hopeless. This is their only way out. It's like a transformation that they go through. It's part of the recovery process." Cohen said now might be the right time to rethink what you want to do in the workforce. "Pivot is the word of COVID. We have to pivot after a brain injury to something else that is better," Cohen said. "There are silver linings to a head injury. It's not a club anyone wants to be in, but we are in it."