This post is also available in:

Español
Books To Assist You In Understanding and Recovering from MTBI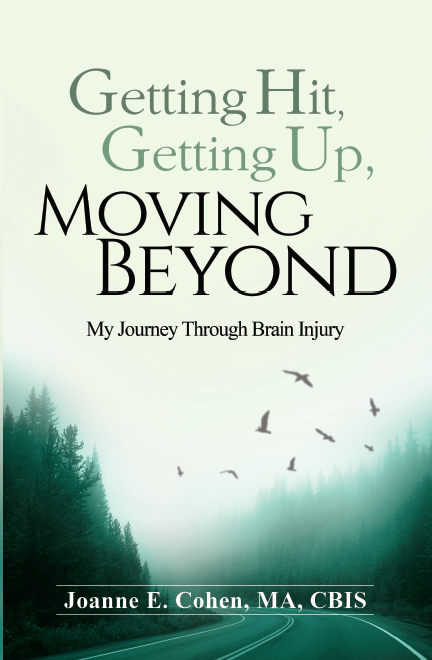 Getting Hit, Getting Up, Moving Beyond
Getting Hit, Getting Up, Moving Beyond: My Journey Through Brain Injury is the compelling story of one woman's challenges as she faced sequential "hits" and how she handled adversity with resilience time after time. Joanne Cohen, Vice President of our Brain Injury Hope Foundation (BIHF) and Managing Partner of CTAT, LLC, shares her honest and authentic journey that depicts the path to "move beyond" and create a full life that includes supporting others with tools to help enrich their lives. According the Dr. Mary Ann Keatley, co-founder of BIHF and author of Understanding Traumatic Brain Injury, "Reading this book is like having a personal coach by your side as she openly shares her fears, frustrations and insights into the recovery process." You can purchase this book at Amazon.com or barnesandnoble.com
"Joanne Cohen provides a road map for anyone who is dealing with various kinds of the "damage" we can experience on this journey of life. This book is filled with inspiration, compassionate understanding and practical life lessons to share with fellows on the journey and the people who support and advocate for them. This is a handbook for thriving." Joanne McLain, Ph.D., LPC, LAC
"I met Joanne in 2007 at a Brain Injury Survivor's meeting that she was facilitating. It was obvious then that she is passionate about helping people (like me) with brain injuries. As a brain injury survivor/thriver herself, she nows what she is talking about, as this book demonstrates. This well-written chronicle, a combination of both practical advice and spiritual musings, could serve as a "How to Thrive after Brain Injury" manual." Doris Sanders, BA, MPA, BI Survivor (12 brain injuries), BI coach, colleague and friend.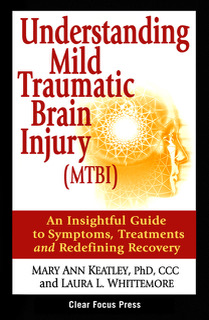 Understanding Mild Traumatic Brain Injury (MTBI): An Insightful Guide to Symptoms, Treatments and Redefining Recovery
If you are a brain injury survivor or know someone who has experienced this life-changing event, this book was written for you. Since MTBI is considered an "invisible injury," it is often misunderstood and undiagnosed. You will learn to recognize the signs and symptoms as they show up in everyday life, and a valuable list of the latest treatment options is recommended to speed up the recovery process. This book is also an essential reference for health care professionals, caregivers, teachers and athletic coaches to expand their knowledge of the physical and behavioral symptoms. The intention of the authors is to inspire hope that brain injury survivors will get better, learn strategies to compensate, and discover their own resiliency and resourcefulness. Click the BUY button for the paperback or eBook..
Price: $14.95 BUY NOW
"The booklet, Mild Traumatic Brain Injury, A survivor's Handbook, has been the best 42 pages I've read in the 2 1/2 years since my injury. I've heard Drs., Fellows, Nurses, other specialists talk about an MTBI and they just don't know. This was extremely difficult to read the first time, however, after a few months, I kept referring to it. Even after 2 years I refer to it. I especially like the part about families/friends, etc. It is so hard on them."
— Shirley J.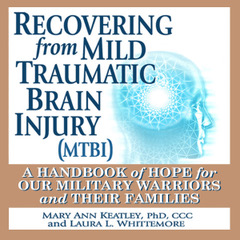 Recovering from Mild Traumatic Brain Injury (MTBI): A Handbook of Hope for Our Military Warriors and Their Families,
by Mary Ann Keatley, PhD, CCC and Laura L. Whittemore
Mild Traumatic Brain Injury (MTBI) is a new and involuntary assignment for our Wounded Warriors who are casualties of this "invisible injury." By listening to this audiobook, recorded by Laura L. Whittemore, you will learn to recognize the symptoms that slow you down from recovery. The next step is to be proactive and seek out the suggested treatment options to expedite the healing process. Your magnificent brain has the capacity to overcome setbacks. Never give up because we believe you have the strength and resilience to push forward and follow a new direction.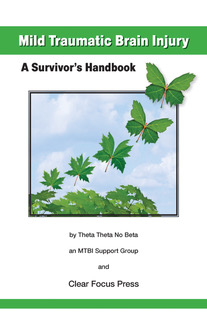 Mild Traumatic Brain Injury: A Survivor's Handbook, Edited by Mary Ann Keatley, PhD, CCC and Laura L. Whittemore, Survivor and Thriver
This small and easy-to-read handbook created by an MTBI Support Group helps survivors and their families recognize the symptoms of this life-changing brain injury. You will learn how these symptoms impact your life and what you can do to speed up your recovery. Brain injury can be created by a physical, emotional or chemical trauma. The eBook is available on Amazon, and the paperback in English or Spanish is available by emailing [email protected].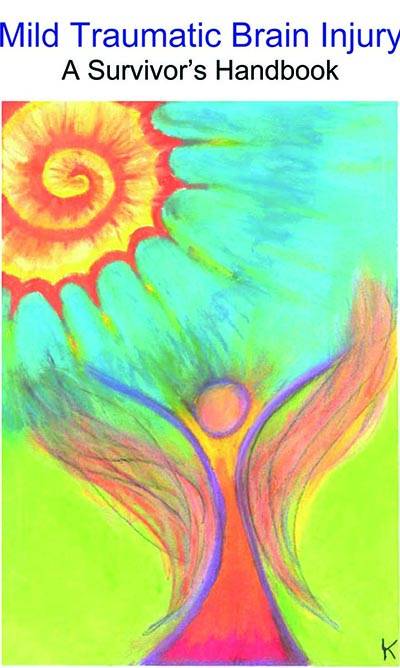 Mild Traumatic Brain Injury: A Survivor's Handbook
By Theta Theta No Beta
Copyright 1995, updated by the Brain Injury Hope Foundation 2009
This small handbook was written by an MTBI support group who called themselves Theta Theta No Beta and was edited by Robin Murphy Davis who was also an MTBI survivor. They were motivated to share the knowledge they gained through their experience, since there were no books available at that time to help survivors and their families to understand MTBI and what to expect. There is also a Spanish version available.
This handbook was featured in "Woman's Day" magazine – May 12, 1998.
Price: $5.00 English Version
Price: $6.00 Spanish Version
If you are interested in buying the Spanish or English version, please Contact Us.