Healthcare Panel Reveals Unique Ways to Recover from TBI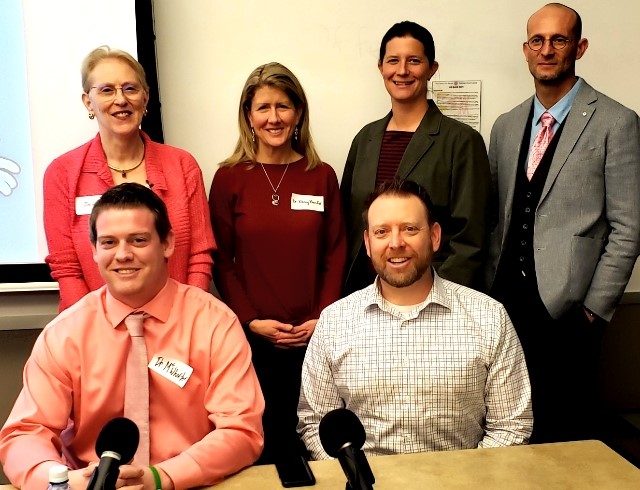 BIHF Vice President Joanne Cohen, standing left, greets the February 2020 Treatment Panel participants: Nancy Bonifer, standing left to right, Candi Boyd, Dr. Eric Spier, Dr. Jeff McWhorter, seated left, and Dr. Shane Steadman.
Working with "non-traditional" doctors while recovering from a brain injury has helped many survivors, who are part of the Brain Injury Hope Foundation community. To help others overcome hurdles, the BIHF held a panel discussion February 13, 2020, with several healthcare providers, who doled out information about their services.
Joining our panel at the West Metro Fire and Training Center in Lakewood, Colorado, were:
Nancy Bonifer, PT, DPT, MS
Dynamic Recovery Physical Therapy
6638 W. Ottawa Ave., Suite 115
Littleton, Colorado 80128
303-872-7240
Candi Boyd, MDIV-Chaplain
Craig Hospital
3425 S. Clarkson St.
Englewood, Colorado
303-789-8000
Dr. Eric Spier, Neurologist
Craig Hospital
3425 S. Clarkson St.
Englewood, Colorado
303-789-8000
Dr. Shane Steadman, DC, DACNB
Integrated Health Centers
601 South Clarkson Street, Suite #420
Englewood, Colorado 80113
303-781-5617
Dr. Jeff McWhorter, DC
McWhorter Chiropractic and Neurological Rehabilitation
7000 S. Yosemite St., Suite 260
Centennial, Colorado 80112
720-893-8950
720-717-4748
"Every TBI is unique," Spier said. "I relish the environment that I'm in because of the access to a lot of resources. I work with a large team that supports one another. … We work with smaller amount of patients to accomplish that."
Working with a smaller amount of patients has its drawbacks in that it limits the number of survivors Craig Hospital can service.
"We provide a beacon for other hospitals and providers," Spier explained. "I value the time with my patients and the results that we are achieving, but it can be frustrating that we cannot see more people. It's an enormous disadvantage that we can't take care of more patients."
Boyd, who is a chaplain at Craig Hospital, touts working with the whole person during their recovery as Spier noted that "it's important to provide a multi-faceted approach to recovery."
"Rehabilitation includes the entire self, including the spiritual self," Boyd explained. "The spiritual self gets altered, too, when you have a TBI. I help to provide a spiritual context to help the patient."
Boyd cited an example of using hymns or Scripture passages to help the patient with speech therapy and recall.
"We can go through the lyrics or Scripture together and maybe they (the patients) can remember the next verse or word," she said. "And then the words come easier and easier. It (spiritual practice) provides a centering for the patient that they can come back to. It's something meaningful to help them in recovery."
Steadman used an analogy of a car mechanic to describe his approach to TBI recovery.
"If your car is not working, you take it to a mechanic, who does a whole work up or diagnostic on the car. That's what we do," Steadman explained. "We look at the whole person, not just one part. We do a full workup. Blood work. Eye – visual performance. Hearing – vestibular problems. We look at whiplash and the neck.
"We see what is working and what is not working, and we can pull all of those things together and start working on them individually."
McWhorter, who sustained six TBIs, speaks from experience. After his last TBI, he used the Gyrostim in his recovery.
"It helped me get my quality of life back fast," he said. "It is a phenomenal module. It stimulates the brain through motion. Patients are instructed to hit targets in a certain order while in the Gyrostim. I've found validity with the Gyrostim."
The Gyrostim is also being used by professional athletes to increase speed of processing, something that tends to slow after someone suffers a TBI, and is just one of many modules in McWhorter's practice. His clinic also utilizes acupuncture, hyperbaric oxygen therapy, Neurofeedback, and Class IV laser therapy.
"We touch on every aspect of a brain injury," McWhorter said.
He then related one of his success stories concerning a patient, who suffered a massive stroke, and came to his office needing her husband to carry her. After oxygen therapy and Gyrostim therapy, the woman was able to walk with assistance in just three months.
"There is always hope," Steadman said. "The neuroplasticity concept (the brain will make new pathways to accomplish tasks) is giving people hope. It can take a bit of time, but don't get discouraged. As you activate the neurons in the brain they become more active."
Bonifer, who works one-on-one with clients and tailors the therapy room to each person's needs, such as dimming the lights or taking a clock out of a room if it's too loud, cited setting small goals and looking at your accomplishments during your therapy.
"It (recovery) does not happen overnight," she said. "Neuroplasticity can take some time to master a set of skills."
"We all build on neuroplasticity in different ways," Steadman said, noting that diet and sleep are also huge during recovery. "You want to decrease inflammation."
Insomnia can be a big hurdle for many TBI survivors, and McWhorter stated he has had success with neurofeedback therapy along with oxygen therapy in helping patients gain meaningful sleep.
One audience member asked for guidance in choosing therapies: I'm running out of energy to try new things. I'm excited and exhausted, she related.
"What gives you joy?" responded Boyd. "When searching for the next option ask yourself what is OK for me right now. And remember you don't have to be more than who you already are at this moment. It's who you are now. It's OK to be where you are now."
Steadman noted that he is working with a patient, whose identity was wrapped in who he was before the TBI. "It's OK to press the pause button," he said. "You don't have to stop enjoying life. Self-care is the most important thing you can do now."
"Take a vacation from treatment," McWhorter suggested. "You still have a life to live. Going to doctor to doctor and therapy A to therapy B becomes your life. All caregivers have ways to modify so you don't feel imprison or consumed by your diagnosis."
Bonifer advised getting back to basics. "Maintaining a positive attitude, drinking water, eating healthy food, exercising – these are all things that will help you."
Spier explained that even though Craig Hospital is limited in its reach to patients, what the staff learns is, in turn, related to communities. "We are building community. We provide resources to empower communities to get out there and change their structure, such as developing partnerships with organizations that help the TBI community. How can we develop resources that can make a difference in creative ways? It's an uphill battle. And Craig is not the Holy Grail. Focus on people who can help you."
Boyd, the chaplain at Craig, stated, "The reality starts after our patients leave our setting. How do you make all these tools that we developed in therapy work in real life? You need to find a community. It's hard to live life in a silo, but stepping out into the community is hard.
"You have to be an advocate," she continued. "If your church is too loud, talk to the pastor and spiritual community. They don't know what they don't know. Maybe they can dim the lights or lower the sound.
"And remember, YOU are the author of your greatest story," Boyd said. "You get to write the next chapter. How are you allowing your true self to form the story you want to write?"
-By Eliza Marie Somers